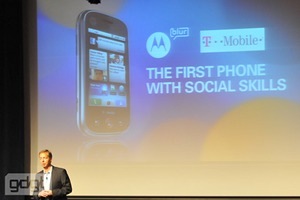 Motorola has announced a new Android-based phone to be released in Q4 2009: the Motorola Click (called Dext outside of the United States) available with T-Mobile.
During its keynote, Motorola focused on the Click's support for Gmail and various social networks, including Twitter, Facebook and MySpace, calling it "the first phone with social skills". The Click will feature Motoblur which allows you to send messages to all of these social networks at once and will also allow you to receive messages from them. Contacts from these social networks will all be merged into a single address book.
The Click will support 3G and Wi-Fi connections, will include a 5 megapixel camera that can also record video at 24 frames per second and will have a standard 3.5mm headphone jack.
Motorola also said that it will be releasing more information about another phone that will be available by the 2009 holiday season in the coming weeks. It also announced plans to release additional devices in 2010 that will include Motoblur.
[Image from gdgt.com]