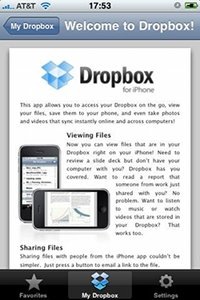 Dropbox allows you to remotely back up important files so that they are not lost in case of a problem with your computer. It continuously runs in the background and whenever you add a file, remove a file or make changes to a file in your "Dropbox" folder, it syncs that file with Dropbox's remote servers. Synced files can also be accessed from their website, even from a computer that does not have the program installed.
Dropbox now has an iPhone app [iTunes link] that allows you to browse the files you have synced from your computer. You can access files that the iPhone supports, such as PDF files, Word documents, images and music files. In addition, images and videos can be uploaded from the iPhone, which will then be automatically synced and uploaded to your desktop computer.
Dropbox comes with 2GB of storage for free, which may be enough to store your most important files, but also has a 50GB package for $9.99 per month and a 100GB package for $19.99 per month.