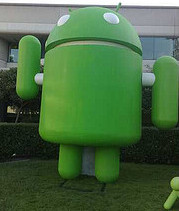 Verizon Wireless and Google have announced that Verizon will soon be selling phones that run Google's Android operating system. The phones will come pre-loaded with software from both Google and Verizon, as well as third-party developers.
Verizon has announced that it will be selling its first Android-based phones in a few weeks. It also announced that it will be the carrier for a new phone from Motorola.
With T-Mobile, Sprint and Verizon now all carrying Android-based phones, it leaves AT&T as the last of the four major U.S. mobile carriers not to carry the phones.