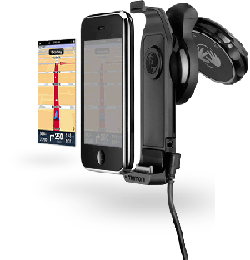 The TomTom car kit for the iPhone is now available in Europe for the previously announced price of ́ €99.99. More specifically, it is available in Austria, Belgium, Denmark, Germany, Finland, France, Ireland, Italy, Luxemburg, Norway, Portugal, Spain, the Netherlands, the UK, Sweden and Switzerland. The kit can be purchased from either TomTom's web store or Apple's online store.
The kit holds the iPhone in position and includes a GPS receiver for more accurate positioning, a speaker so that directions are clearer and louder, a microphone for hands-free calling and a charger for the iPhone. It also includes an audio output port to allow users to play music through their car speakers.
The car kit is compatible with iPhone 3Gs and iPhone 3GSes running iPhone OS 3.0 or later. The TomTom app, which can also be used independent of the kit, is not included with the car kit and must be purchased separately.
The TomTom car kit will be available in the United States sometime later this month.