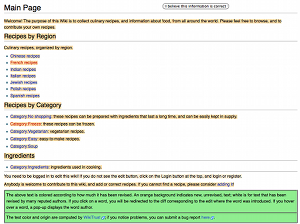 Beginning this autumn, Wikipedia will be using the WikiTrust extension to highlight text based on its trustworthiness, reports Wired. WikiTrust was developed by Wiki Labs at University of California, Santa Cruz to help users decide which text they should see as most likely reliable and which text they should view very skeptically on a wiki page.
When the extension is enabled, all text on a page is highlighted based on the trustworthiness WikiTrust awards it. Text that is a bright orange is very questionable, while text highlighted a lighter shade means that it has been written by a more trustworthy user. As the text is edited by more trusted users, it turns from orange to white. WikiTrust automatically gives users a reputation score between zero and nine, depending on how many of their past contributions were removed and reverted soon after they were made. By default the extension will be disabled and users will have to click on a tab labeled "trust info" to enable it.
The extension is not flawless, because as one of its developers, de Alfaro, says
"If 20 people are all biased in one way, our tool does not know it…Our tool can simply measure consensus."
Text that is not highlighted, which means that it is very highly trusted, shows that there is a consensus by highly ranked contributors, it does not, however, mean that the text is factually correct. While WikiTrust cannot solve all of Wikipedia's trustworthiness problems, it will assist well-meaning users that are looking to improve the quality of articles to quickly identify suspect text.