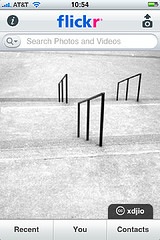 Flickr, which previously only had an iPhone-optimized webpage, has now released an official iPhone app.
The app allows you to search Flickr and view the photos and videos of your contacts. The app also allows you to login to your Flickr account and authorize the app, after which you can upload photos and videos to your account directly from the iPhone.
According to The Next Web, some people are currently unable to authorize the app, so they cannot login to their Flickr account using it. Also, Stenstrøm Consulting reports that when someone adds a contact, he is then able to view that person's private pictures before the person adds him as a contact.