Today is the first day of the two-day TechCrunch50 event, where 50 startups will present their companies and what they are working on. Magic duo Penn & Teller were the first to present and announced an iPhone app that allows you to fool your friends with a card trick.
While Teller was absent, Penn Jillette was there to explain the app in a presentation that really did not fit in well with the others. The other companies presenting are startups debuting their new technology in an attempt to raise venture capital and get some exposure. Jillette instead stated that Penn & Teller was not seeking venture capital nor was it attempting to make money with the app, instead saying that it was created to "get guys laid". He also stated in an indirect fashion that there were no future plans for the app. The presentation was, however, more light-hearted than the more serious ones to come and overall it was a nice way to begin the event.
The app is quite fun and with a price of only $1.99, it's not a bad buy. The way it works is that you present a friend with a deck of cards and ask him to choose one card. You then quickly open the app on your iPhone and enter which card he chose.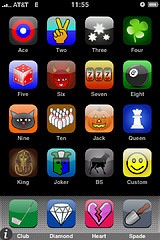 The app then takes you to a page that looks identical to the Messages app for sending SMSs and lists conversations with Penn and Teller at the top.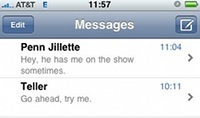 You tell your friend that you are a personal friend of one of them and that they will perform a magic trick. Your friend clicks one of their names and can then begin to chat with him. Penn or Teller "guesses" the card that you entered when you first opened the app.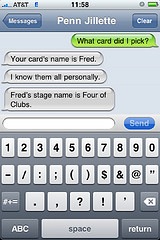 The app, named Penn & Teller Chat Magic Trick, is out right now at the App Store for $1.99 (
iTunes link
). The full presentation is available
here
and a post-presentation interview with Penn Jillette by TechCrunch is available
here
.