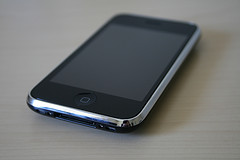 iPhone OS version 2.0 added the App Store to the iPhone, allowing users to install third-party apps on their iPhones without having to jailbreak them. On 24 April 2009, Apple announced that one billion apps had been downloaded from the App Store and today, a little over five months later, it has announced its two billionth download. While it took nine months to reach one billion downloads, it only took five to double that number, due largely to the boost in the amount of apps downloaded since the release of the iPhone 3GS in July, which has sold very well.
Apple also released additional figures:
it has sold over 50 million iPhones and iPod touches worldwide;
there are now more than 85,000 apps in the App Store;
there are more than 125,000 developers in the iPhone Developer Program.
[Image from flickr.com/photos/williamhook]