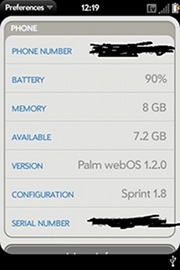 After having been delayed earlier this month, Palm has now released webOS version 1.2 for the Pre. A comprehensive changelog for the update has been posted, however many of the features were already known due to the update having been leaked earlier this month before being quickly pulled.
One anticipated feature was not included: the ability to sync the Pre with an iTunes library. Much to Apple's consternation, Palm has programmed the Pre to pose as an iPod in iTunes, allowing it to be synced. Apple temporarily broke this feature in iTunes 8.2.1 in July, but Palm was able to circumvent the patch by having the Pre pose as an iPod manufactured by Apple. iTunes 9, released earlier this month, broke the feature once again. webOS 1.2 was originally scheduled to be released on 8 September, but was delayed, causing some people to speculate that the update was delayed to allow the developers to fix iTunes syncing. It now looks like the update does not fix iTunes syncing, according to PreCentral. It is not known whether Palm tried and failed to circumvent Apple's latest patch or if it did not attempt to do so.
The update is available right now via the Pre update app.
[Image from PreCentral]